In 2017, the Tohoku Economic Federation (Tokeiren) released its new vision entitled "Activating Tohoku." In it, the aerospace industry was positioned as one of the in-demand industries for revitalizing the Tohoku region. Consequently, the Tokeiren Business Center will take into account the current state of the aircraft industry in Tohoku and provide long-term, effective assistance in cooperation with other support institutions.
1. Global Aircraft Industry
According to the actual figures from 2017, the global market size for the aircraft industry was 50 trillion yen for aircrafts and 25 trillion yen for the MRO market (maintenance, repair, and overhaul). Due to global economic growth, air transport demand is expected to increase annually by 4.5%, and the number of aircraft in operation is expected to increase from 22,337 in 2017 to 40,000 by 2037.
Due to the economic growth primarily of emerging countries, the aircraft market is expected to show stable growth in the long-term.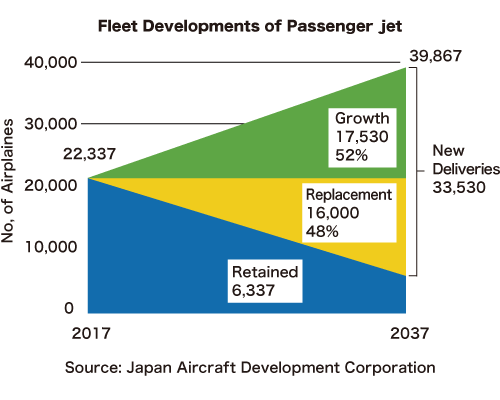 2. Current State of Tohoku
According to the actual figures, the market size of Japan's aircraft industry was approximately 2 trillion yen in 2017. The six prefectures in the Tohoku region accounted for 130 billion yen of shipments, but excluding IHI, a major aircraft engine maker that accounts for 95% of that amount, it leaves only about 10 billion yen.
With the Tohoku Bureau of Economy, Trade and Industry and the Tohoku Aerospace Industry Forum as the primary support institutions and in cooperation with various municipalities, we have achieved the following results.
By supplying small parts and manufacturing jigs as subcontractors for Tier-2/3 domestic companies and trading companies, there was more entry into the aircraft industry, and companies were able to steadily accumulate experience and strong track records.
Companies with JISQ9100 certification increased from 16 in 2011 to 54 in 2018 (+17 companies in Niigata Prefecture). Furthermore, four SMEs acquired Nadcap accreditation. Candidates for the core companies have begun to appear.
Example: Landing gear structural components

Example: Manufacturing jig
3. Tokeiren Business Center's Basic Stance on Support
Given the expanding number of companies entering the aircraft industry, subsubcontractors must further increase their value-added to make their businesses more profitable. One way to do this is to partner with other companies to promote the creation of systems that can perform an integrated production of high value-added modules.
[1] Expanding our scope from the domestic market (2 trillion yen) to the larger international market (50 trillion yen), we will learn from the more advanced European and North American companies and provide support for steady growth (long-term support in cooperation with the other support institutions).
[2] By directly approaching the prime makers (e.g., Boeing) and Tier 1 companies (e.g., IHI, MHI), we aim to outgrow domestic subcontracting and subsubcontracting.
[3] We will position local companies with JISQ9100 certification as core companies, and promoting collaboration between core companies and other local SME's, for development of industrial cluster and aim to build integrated production systems for aircraft modules.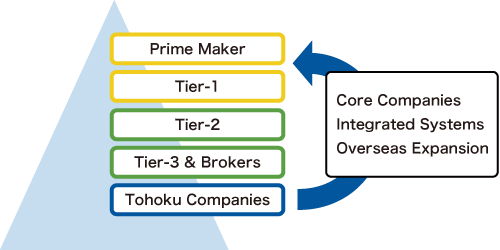 4. Tokeiren Business Center's Specific Support Plan
We plan to hold the networking events for industry–academic–governmental–financial sector (academia provides technologies and human resources, while government and finance provide financial support), to which we will invite speakers from the major companies and academia to share information about the recent industry trends and advanced technologies. Furthermore, SMEs that have gained experiences and accomplishments will share their business know-how. Such exchanges will provide an opportunity for industry, academia, government, and finance to come together as one and energize the local industry.
Exhibiting at the international trade shows will further promote the development of the major companies (including Japanese companies) and new potential clients. Additionally, we will gain an understanding of the world's advanced technologies, such as electrification and lightening aircrafts through the use of composite materials, as well as learning how the international corporate partnership and its core company are structured. Gaining access to such information and sharing it would help transform the awareness of SME's management.
Using a coordinator with expert knowledge and extensive industry experience (e.g., former employee of major company) to provide support, such as business matching, exchanging technologies, holding seminars, and developing sales channels.
5. Tohoku Stand at the Paris Air Show 2019
As part of the Tokeiren Business Center's support activities, we will set up a Tohoku stand with companies from Akita Prefecture, Miyagi Prefecture, and Niigata Prefecture at the Paris Air Show 2019, which will be held at the Le Bourget Airport outside of Paris from June 17 to 23, 2019.
In addition to the exchange of information with companies exhibiting from other regions of Japan, we will endeavor to gain essential information for the future expansion of aircraft industry-related business, such as leading-edge technology from Europe and North America, or projects of the Asian companies. We will further attempt to establish a network with those companies and discover candidates for future business partnerships.